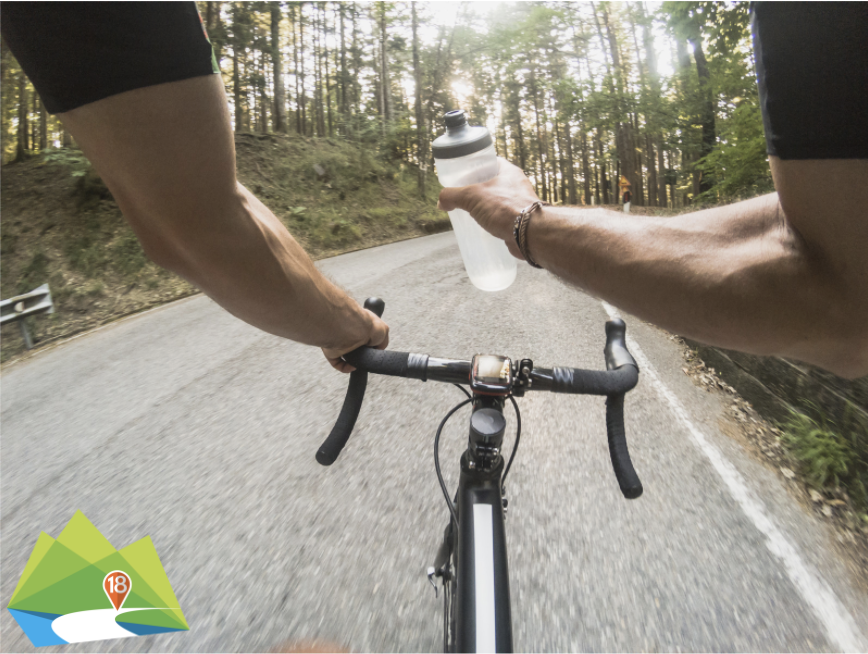 Today's topic is nutrition for long rides for athletes across the spectrum. Riders from experienced to total beginners constantly make nutrition-related mistakes early in the season. And that's usually because we don't have the recent experience of doing the volume.
The long bike rides you are doing, and the experience of those long rides, help us refine our nutrition strategy.
Skipping Mistakes
So how do we jump ahead? How do we skip that process of having a couple of really bad, long rides to make sure that we're alright? We start with a sweat test. You can do this in your own house on your trainer. Or you can ride outside as well.
Let's assume you are doing a two-hour ride. So warm up for about half an hour. And then we're going to ride an hour steady at your target pace. Your long ride pace. So say your target pace is 200 Watts. You're going to warm up, and before you start the Sweat Test, you will hop off (strip on down), and get on a scale to weigh in.
Solving Hydration with a Sweat Test
We start with the fluid first, don't start with the food. It's easy to shop for food. It's sexy; it's colorful, it's got all sorts of branding, things on it and, low sugar, high fat — whatever it is you want. But what we really want is to start with the fluid.
Weigh yourself. Totally bare you. Great. There you go. You are looking good. Hopefully private! Bonus if you have a scale like a Tanita that can estimate the % of fluid in your body.
In my case, I am 180 pounds. Then I go get on my bike, and I ride my hour a steady-state. I capture everything that goes into my body.
So whether it's food or fuel on the hydration side, I capture all that I get at the end of the hour. I go back, and I weigh myself again to see the delta. How much did I lose in an hour at race pace? Note it.
Then I review the fluids — how much did I consume? If the scale indicates that I lost a pound of fluid in that hour of exercise, but I also consumed 16 ounces of fluid (which is a pound), then I have actually lost two pounds of fluid (32 oz) in that hour.
Knowing this will help me to fix my intake schedule to ensure that I've got the right fluids and enough of them as well. And now I have a target. I got to take two bottles an hour to pretty much offset the cost of my goal effort.
Second Step: Knowing the Calories
So nail the fluid losses that you have in an hour at your target effort – power, heart rate or RPE. Then determine the fluids you are taking. Are you drinking just water, or are you using a sports drink / drink mix?
If yes to sports drink, then we can do some calories math. When you drink two bottles of sports drink, per hour, according to your sweat test results, you can figure out exactly how many calories you are taking in.
For example, a bottle of Gatorade endurance — my long-ride fuel of choice — has approximately 180 calories per 24 ounces. Across two bottles, I'm taking in 360 calories per hour from my sports drink of choice.
Step Three: Mapping Fluid Calories to Caloric Needs
In terms of my burn rate, I can look at my data…how many calories do I burn per hour while riding at my race effort? Hypothetically speaking, let's say that I need to take in 390 calories per hour at my rate for my body and everything.
Since I am already taking in 360 calories from my fluid choice, I only need to solve for 30 more calories. That could be half a gel or part of chew. Easy!
Step Four: Practice
There is nutrition that exists as a formula in a spreadsheet. Then there is nutrition as your body experiences it.
Executing a nutrition plan over the course of several long rides will help you synchronize those two realities. No plan is perfect until you have practiced it. This practice will give you a perspective on how, if necessary, you can adjust it when race day arrives.
Why Fluid First?
We start with the fluid first. Even if we don't have enough calories on the day, we'll be much better off than if we were under-hydrated. If you are low on fluids but overfed, your body just won't be able to function well.
If you fill your stomach with bars and blocks and gels and chews and not fluids you will be in trouble. Without enough fluid to operate, your body is basically sending a DANGER signal to your brain when you're riding. And it says, "Hey, this is not good! Even though I have bars, I don't want to eat them because I'm really thirsty and I need to drink."
The Recap
So as you think ahead for your nutrition for these long rides, remember to start with your fluid first solve with a sweat test for your fluid losses.
The fluids that you choose should include electrolytes. Use that fluid choice to determine, based on your hourly consumption rate, just how many calories you're getting in.
And then you fill the gap on those remaining calories with foods of your choice to be successful. Don't forget to always bring salt tabs with you just in case you need to help settle the stomach with a little too much fluid. And don't be afraid when you stop at a convenience store and you're in a dark place.
An Emergency Solution Example
Don't be afraid to go outside your comfort zone and get some food from a store on your next ride. My go-to is a can of Coke and a Snickers bar.
It has saved me on more than one long ride because I needed calories.
I needed sugar. I needed caffeine. Problem(s) solved in a single pit stop.
Don't be afraid to go outside the box if you have worked yourself into a corner. Convenience store snacks can save a long ride.