Join us for an unforgettable week of riding, adventure, and self-improvement in the European cycling paradise!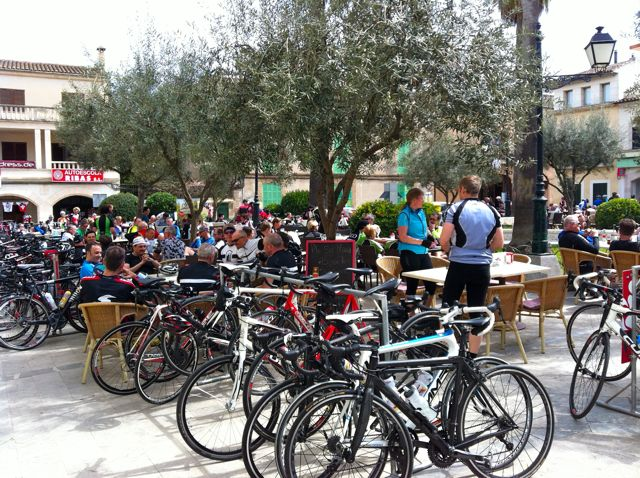 Are you ready to take your cycling fitness to new heights? Look no further than our highly anticipated 2024 Mallorca Cycling Camp, where we offer a transformative experience designed to make you a better cyclist.
From April 20 to 27, 2024, immerse yourself in the breathtaking landscapes of Mallorca, indulge in mouthwatering cuisine, and push your limits on thrilling rides. Whether you're an avid cyclist seeking new challenges or a passionate beginner looking to elevate your skills, this camp has something to offer everyone.
Rent or Bring Your Own Bike for Seamless Logistics
At the Mallorca Cycling Camp, we understand the importance of eliminating logistical hurdles so you can focus on what you love: cycling. That's why we provide an upfront rental option, offering top-of-the-line road bikes, many equipped with electronic shifting. If you prefer to bring your own bike, we ensure a smooth transition and take care of all the necessary arrangements. Let us handle the details, making your journey to cycling paradise even more convenient.
Tailored Accommodation Options to Suit Your Needs
We believe that comfort and customization go hand in hand. For those desiring their own space or traveling with a non-participating partner, single occupancy is available for an additional $500. Simply inform us after your deposit, and we'll ensure your preferences are met. If you're riding alongside your partner, our Camper, Double Occupancy rate is perfect for both of you, including a special couples discount. Your comfort is our priority.
An All-Inclusive Experience: Eat. Sleep. Train. Repeat!
Prepare for a comprehensive cycling immersion as we take care of all aspects of your stay. Our dedicated team handles transportation to and from the airport, ensuring a hassle-free arrival and departure. Indulge in daily breakfast and dinner buffets to fuel your rides, supplemented with daily workout nutrition. With six hours of ride support and breaks led by knowledgeable guides, you can focus on conquering challenging routes while relishing the stunning scenery. Camp shirts and swag are provided as mementos of your incredible journey.
Experience Epic Rides and Discover Hidden Gems
Every day at the Mallorca Cycling Camp presents new opportunities for exploration and growth. Our meticulously curated ride selection caters to various skill levels and preferences. Brace yourself for exhilarating routes such as the Lighthouse Ride, a 29-mile adventure with 3200 ft of gain, or opt for a more casual 38-mile ride with 1200 ft of gain on the Causal Adventure route. For those seeking an ultimate challenge, conquer the Sa Collabra Ride spanning 66+ miles with 6500 ft of gain, or test your mettle on the Puig Major Ride, covering 90 miles and 6300 ft of gain. Each ride promises breathtaking landscapes and unforgettable memories.
🚨Introducing the 312 RaceCamp Option: Unleash Your Competitive Spirit
In 2024, we're thrilled to introduce a new addition to our camp: the 312 RaceCamp Option. For the adventurous and competitive individuals, this option allows you to participate in the Mallorca 312 event on Saturday during the camp week. Choose from fondo options of 100, 140, or 193 miles and join this highly sought-after event that sells out within hours. By selecting the Race Camp deposit, you secure a spot in the event, an extra night of lodging, a carbo-loading dinner, and a thrilling post-ride night out. Unleash your competitive spirit and make lasting memories on this unforgettable cycling journey.
Secure Your Spot: Make Your Deposit Today
Space is limited, and demand is high. To secure your place at the 2024 Mallorca Cycling Camp, a $500 deposit is required. We encourage you to act promptly and reserve your spot for this life-changing experience.
If you're traveling with a partner or family, inform us after your deposit, and we'll provide you with the necessary information regarding room and board options. Don't miss out on this opportunity to connect with fellow cycling enthusiasts and unlock your full cycling potential in the captivating paradise of Mallorca.
Note: Airfare to/from the camp is not included. The airport serving Mallorca is Palma (PMI). Alcoholic beverages and food at cafe ride stops along the routes are not covered by the camp. For a more detailed insight into previous camp rides, you can explore our camp slideshow or read the full 2022 camp recap online.
Feeling Adventurous? Learn more about our training camp plans by visiting our official training camps website. We travel the world to curate incredible experiences for endurance athletes. It's our mission to connect amazing people by finding unique places to explore. Each adventure is a chance to create lifelong memories and build incredible fitness. Riders of all abilities are welcome at our camps!
Now, mark your calendars and get ready to embark on a cycling journey like no other. The 2024 Mallorca Cycling Camp awaits, promising unparalleled experiences, personal growth, and camaraderie among fellow riders.
Join us as we push boundaries, conquer challenges, and create lifelong memories.