After long hours in the saddle on our first day of gravel camp searching for the backside of Beech Mountain, it was time to take the guys to my favorite area to train off-road. A 20 min descent down gravel roads located directly off of the Blue Ridge Parkway will dump you into wild and wonderful Wilson's Creek. Knowns for its 23-mile mountain creek which begins at the top of Grandfather Mountain, this rugged area of the Pisgah National Forest is a favorite to hikers, campers, kayaks, all-terrain vehicles, mountain biking, and gravel grinds. 

We decided to access Wilson's Creek from Pineola, NC which quickly became our group's favorite decent of the weekend. The gravel was smooth the entire way down with a few ruts in switchbacks. I was on my hardtail so the front suspension offered plenty of support and confidence for an epic descent down the 9 miles, 2500 elevation loss… What I gained in descending speed, I would lose in the climb back up at the end of the day.
We reached the town of Edgemont which would also become a favorite for the weekend. When Matt first mentioned we would be climbing Globe Road up to Blowing Rock, he said my face sunk like I had just seen a ghost. I've climbed Globe twice before, once on my full suspension mountain bike and once in the back of a pickup truck after showing up with the wrong gravel gears. This beast is legit. It's a 4-mile, 2,000 ft gain, averaging 9.2% kinda climb. It's one of those climbs where you turn to see another steep turn, and another, and another. While the hour climbing wasn't pretty, I made it to the top just in time for lunch in Blowing Rock, NC.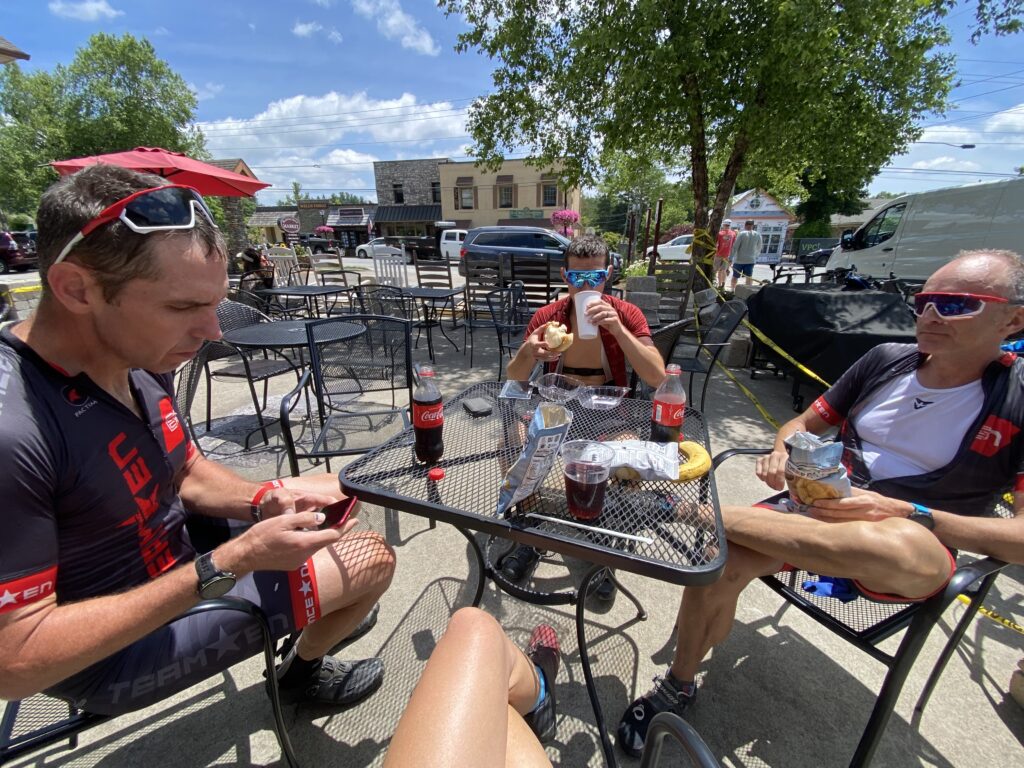 Maybe we spent a little too long at lunch, or maybe I ate a little too much, or maybe I'm just making excuses. Whatever it was, I found myself in my own personal hurt locker on the way back to Pineola. We descended back down Globe and slowly made our way back to Edgemont. Another steep climb back up to Gragg (pronounced Graaaaaaaag), I looked at the guys and said, "I know my house is five miles that way and I'm having a very hard time NOT taking a right turn." Coach P said, "you probably don't want to eat right now, but this is me encouraging you to eat right now, EB."
(This seems to be a theme with me and big training rides.)
I was 110% bonking and decided to eat all of my food. It was like a sugar-buffet-party-in-my-mouth. Matt told me I was not taking a right towards home and that I was going with them. I'm so glad I listened. We descended back down into Edgemont where we stopped at the Historic Coffey's General Store to grab a coke, protein bar, and some pretty cool pictures. By then I had come back to and was ready for the final 8-mile-climb back up Pineola.
While I get to ride this area all the time, I rarely get to do long rides like this and never have riding partners who will join in for the back-to-back volume. The stories that come with the miles and overall camaraderie with the groups are my very favorite part of training camps with Mile18Inc. The fitness gains don't suck either.
We finished out day two back at home base where the guys showed off their sweet grilling skills, Josh definitely won MVP with his fire skills, and I ate all the s'mores. ~ EB