Embark on an adventure of a lifetime with our Mallorca Cycling Camp! Join us as we explore Europe's cycling Mecca, the beautiful island of Mallorca. Over the course a week, we'll spend 5 days riding along stunning coastal roads, through picturesque backcountry lanes, and tackle some of the most challenging climbs on the island. And don't worry about a thing – our leaders will take care of all the details, so you can focus on the adventure.
Your itinerary begins with a flight to Palma, where we'll pick you up and transfer you to Port Pollenca and your home for the week. You can pick up your bicycles and take a short test ride. You'll spend the night in a comfortable hotel complete with delicious food.

On Sunday we do a test ride of about two hours. There is the option to extend the day's ride for those who are feeling particularly adventurous.
On Sunday, we'll warm up with a shorter ride of approximately 50 miles along the scenic open roads of the east, and north of the island, enjoying the peaceful surroundings and occasional coastal views. We'll end the day in the ancient and perfectly preserved walled town of Alcudia, where we'll have dinner at the town's finest restaurant.
Monday is where the real riding begins, as we tackle some of the most thrilling cycling terrain in Europe. We'll ride one of the following epic climbs — the Col de Femenia, the spectacular Sa Calobra, or the the Puig Major climb before a beautiful descent back to home. Please clean up before you hit the restaurants for those carbohydrates.
Tuesday is our big adventure day, which could be a point-to-point exploration of the gorgeous west coast of the island. This doesn't mean an early transfer. We will be up and out the door to take the shuttle down south. Upon our arrival, we quickly get caffeinated and get on the bikes. There will be two groups to make sure everyone can complete the challenge for the day.
Wednesday is a much needed rest day off the bike. The ambitious might do a cross-training session, but most people opt to take it easy. We will do a Camp Dinner out (food is included!) so you can enjoy some delicious local food. Early to bed is key, as we have two days of riding left.
Thursday and Friday will be flexible based on the weather and your legs! We'll have options to gain mileage or gain vertical. Each group can decide on the best course of action to close out the week.
Regardless of what you choose, know that you'll be heading home with strong legs and a sense of accomplishment.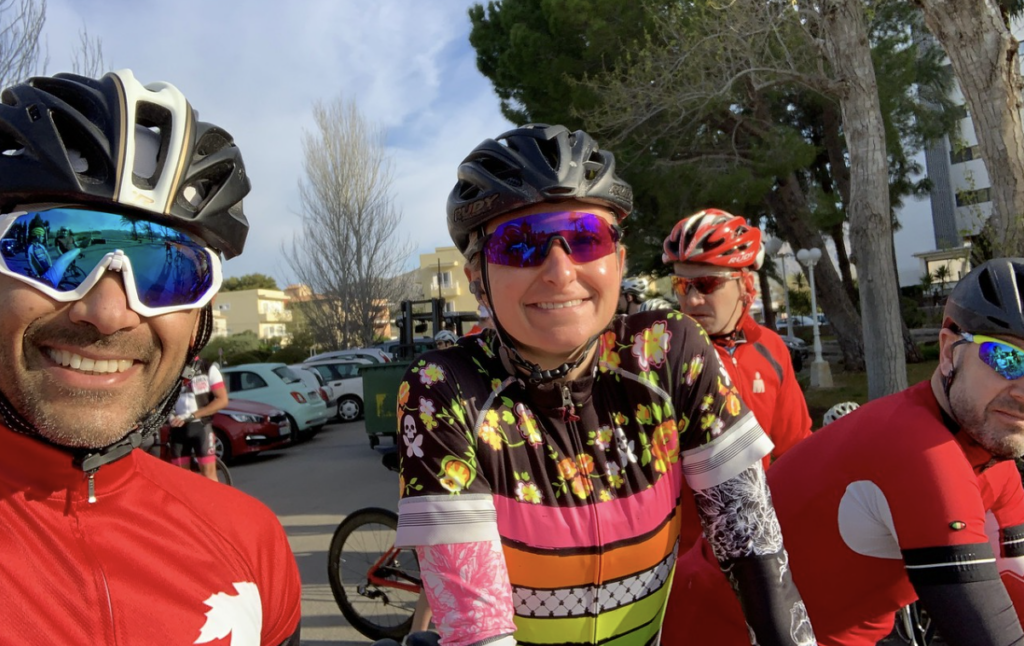 Is This Camp for You?
Our cycling camp is suitable for cyclists who are comfortable with long rides and regular training. You should be able to cycle at least 15 mph and are capbable of riding in a group. Most days will have 3 to 5 hours of cycling time, but the adventures might push you longer.
Don't miss out on this exciting opportunity to tackle a thrilling cycling challenge and explore the beautiful island of Mallorca. Join us on for our annual Mallorca Cycling Camp and let us take care of all the details – all you have to do is show up and enjoy the ride!